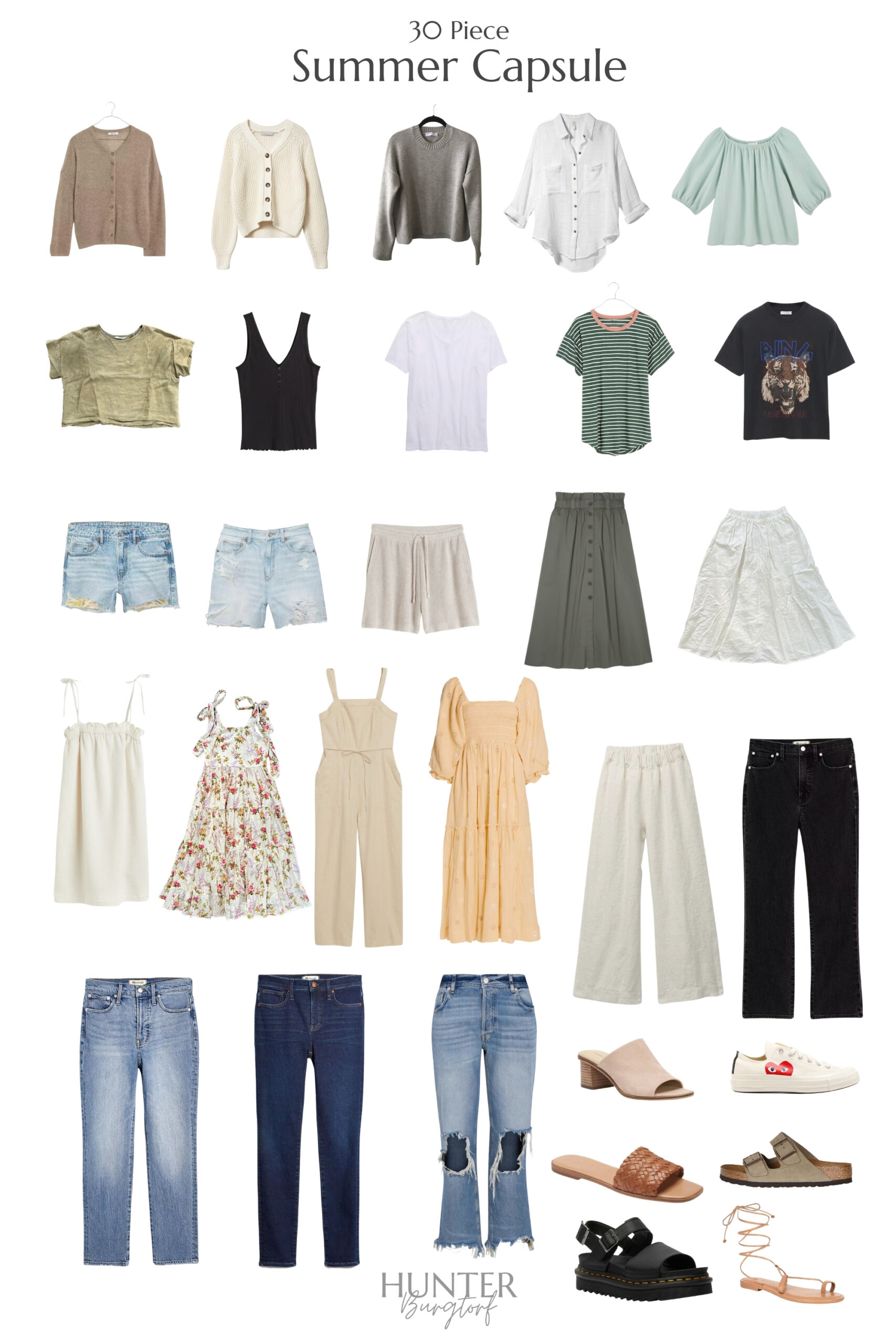 Oh, summer. This has always been the hardest season for me to dress for. In Florida, we have unbelievable heat and humidity outside yet the second you walk inside anywhere, you're greeted with a full-power AC unit.
So, rather than running out and buying all new clothes for this season, I decided to challenge myself to create a summer capsule with a few new pieces mixed with what's already in my closet. For the next 30 days, I'll be sharing how I style these pieces here and on reels. I can already see combinations of outfits I never thought of! I really believe that you can shop your own closet and find unique ways to wear what you already own, so I'm super excited to be doing this challenge.
This capsule is also meant for you to find inspiration for your own summer wardrobe. You might have more dresses than me or fewer sandals, maybe you're not a t-shirt gal like I am or you love your shorts. You can totally mix and match to make it work for you.
Below, I've linked all the items I could or alternatives to anything that's old or sold out in case any of these pieces fill a gap in your wardrobe. I didn't include accessories, swimsuits, or PJ's but will be showing those in my daily looks. Alright, let's do this…
Layers (3)
You're probably wondering why in the world I have sweaters when I live in Florida. I'm actually starting this challenge from Colorado, so logistically I had to include some cooler climate layers. But also, I find myself grabbing a sweater most nights before going out to dinner anyway as it always feels freezing entering the AC after being out in the heat. I do switch out my sweaters to be cotton or a light material like mohair so it's airy and not too stuffy. 
Tops (7)
I am a t-shirt and jeans girl through and through. It's my go-to pretty much year-round, so I had to include a lot of tops as that's what I reach for each day. 
Shorts (3)
Every year I go on the hunt for the perfect jean short. It's the most difficult thing for me to find, but this year I hit the jackpot with these shorts. I absolutely love them and have been wearing the distressed pair nonstop. 
Skirts (2)
I love a great midi or maxi skirt, and these two have been amazing this season. They're both linen and so lightweight. 
Dresses & Jumpsuits (4)
I don't wear a ton of dresses, but the ones I have I absolutely love and cherish in my closet. These are four new additions that I couldn't pass up. Dresses and jumpsuits are fun statement pieces because they can be easily dressed up or down, and altered depending on the occasion.
Pants (5)
I don't know if it's growing up in Florida, but I just wear jeans all year. I love them and it never feels too hot for me to wear them. I am loyal to Madewell jeans as they have always been the best fitting and longest lasting for me (I'm also a fan of Everlane's jeans). And then I have this pair of linen pants for the extra hot days.
Shoes (6)
I look for two things in my summer shoes: they are versatile and can stand the test of time.