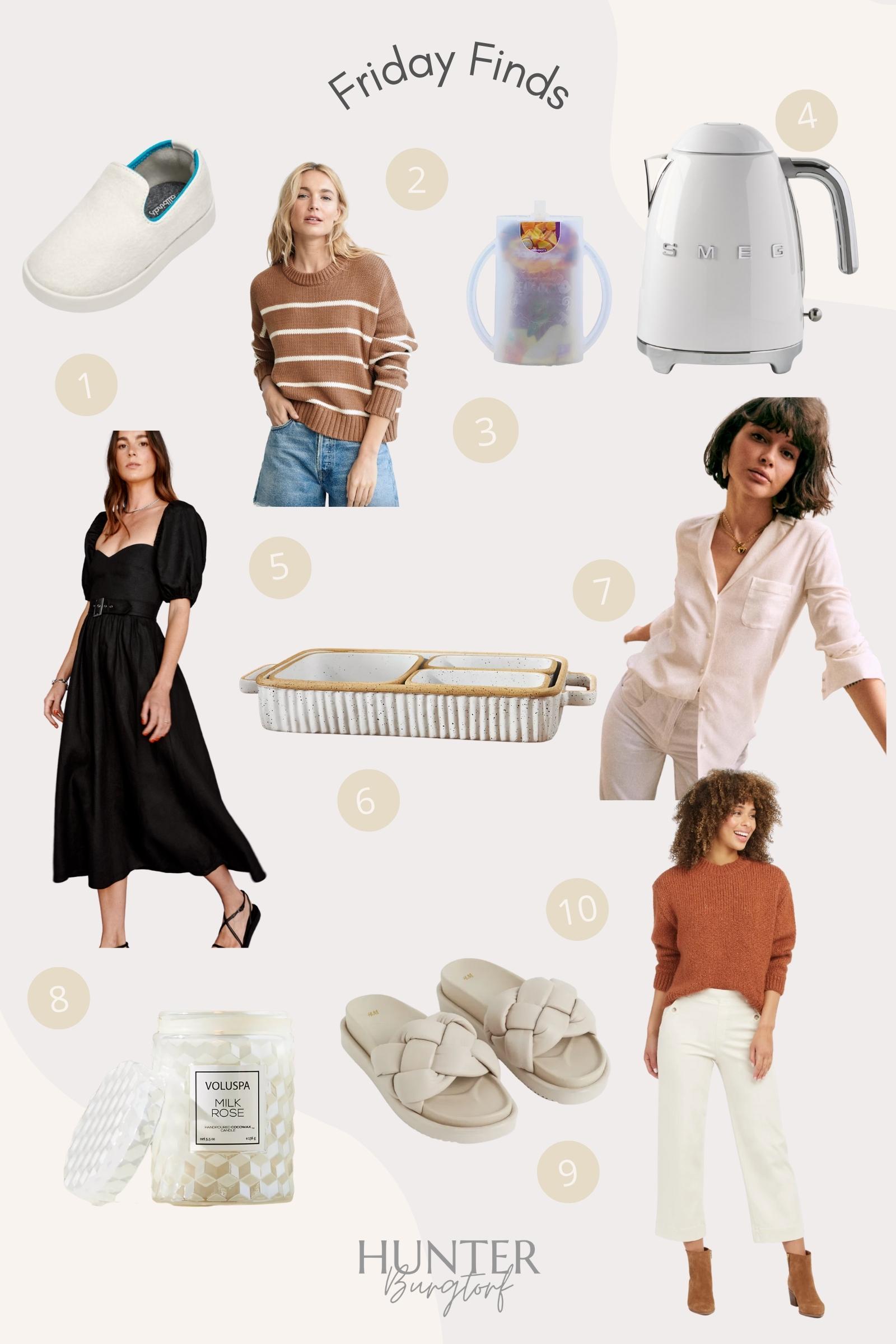 Happy Friday! Matt and I have been binge watching Love Island UK and this season has turned out to be so good. At first I wasn't into the couples at all but now I'm invested. Really rooting for Davide/Ekin-Su and Luca/Gemma. Have you been watching it? Who's your favorite couple?
This weekend we're planning on lots of beach time, pool time, and just escaping the heat of the summer. I hope you're gearing up for a fabulous weekend too! Now, onto my favorite finds of the week…
Smallbirds Wool Loungers – I have the adult version of these and absolutely love them, so I can't imagine anything cuter than Maverick and I matching with these smallbirds. She'll be walking before we know it!
Jenni Kayne Chloe Crewneck – I've been eyeing this adorable sweater for a while and after seeing it do the rounds this week on other bloggers' Instagrams, I knew I had to include it in today's post. I feel like this is going to be a major fall look.
Flipping Holder Squeeze Proof for Pouches – I bought this for Mav recently as she keeps squeezing the pouches and shooting food everywhere, and I love this holder for when we're out to eat or she just needs a quick snack. It also makes the pouches stand up on their own which is nice, and the handles are great for her little hands to hold. Definitely recommend!
SMEG Tea Kettle – After loving this tea kettle from afar for literally years, I finally bought it last month when our old tea kettle's top broke off and I have to say, it brings me SO MUCH JOY every morning. I love it and am planning on asking for the coffee maker for Christmas. It's a splurge but I say very worth it and makes your kitchen look like a mix of luxury and retro.
Reformation Tien Linen Dress – I've said this before; I don't have a ton of black in my closet. I typically go for more natural colors like white and tan, but this dress took my breath away. Might have to buy it myself for the autumn/winter.
Heritage Baking Dishes – I've been obsessed with these dishes (there's also a mixing bowl!) and think you'll love them too. The speckled white and homemade feel is just so lovely.
Sézane Florence Shirt – I have this issue where I love button-down shirts so much, but sometimes they make me feel more masculine than I'm wanting. So, I was super excited when I saw this shirt this week as it's got a more "pajama" fit and the tailored elements give it a more feminine vibe which I love. I think it would be perfect for layering too.
Voluspa Milk Rose Candle – I bought this candle as a gift for a friend's birthday and the smell is DIVINE. Might have to go back and pick one up for myself.
H&M Leather Slides – I tried these on in-store a few weeks ago and am still regretting not buying them. They're like a fancier version of the cloud slides everyone is obsessed with.
Spanx Cropped Wide-Leg Pant – I was targeted on Instagram with an ad for these pants and have quickly fallen in love. The cream color are my favorite but are currently sold out sadly, so I love this boater-style white pair.